ANUMED - eDrops (Alcohol-Free) Weight Management Liquid Drops. Fast Fat Burner, Weight Loss, Appetite Suppressant. Promotes Metabolism, Lean Muscle
Short description
ANUMED ONLY DELIVER THE MOST POWERFUL NATURAL INGREDIENTS. Our Products are 100% Natural, Non-GMO, Gluten Free, No Sugar Added, and Made In the USA.
Share
ANUMED eDrops is Natural Diet Drops that support Fast Fat Burner, Promote Metabolism, belly fat burner, Natural weight management, maintain lean muscle mass, and curb carvings. All Natural Ingredients powerful for weight management, formulated with science-backed ingredients, Non-GMO, Gluten-Free, No Sugar Added. eDrops works perfectly with a balanced diet, no need of additional exercise.
eDrops (Alcohol-Free) Weight Management Formula Benefits
Supports Fat Loss
Acetyl L-Carnitine – Helps convert body fat into energy to improve overall endurance and stamina
Supports metabolism
L-Ornithine – Helps to decrease body fat and build more lean muscle
L-Arginine – Helps maintain muscle mass, while maintaining immune and hormone function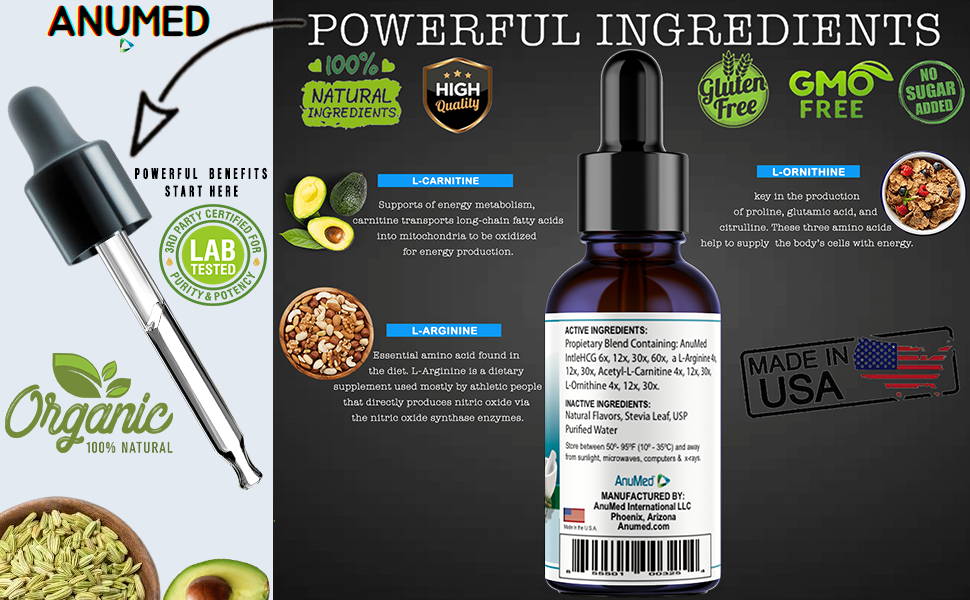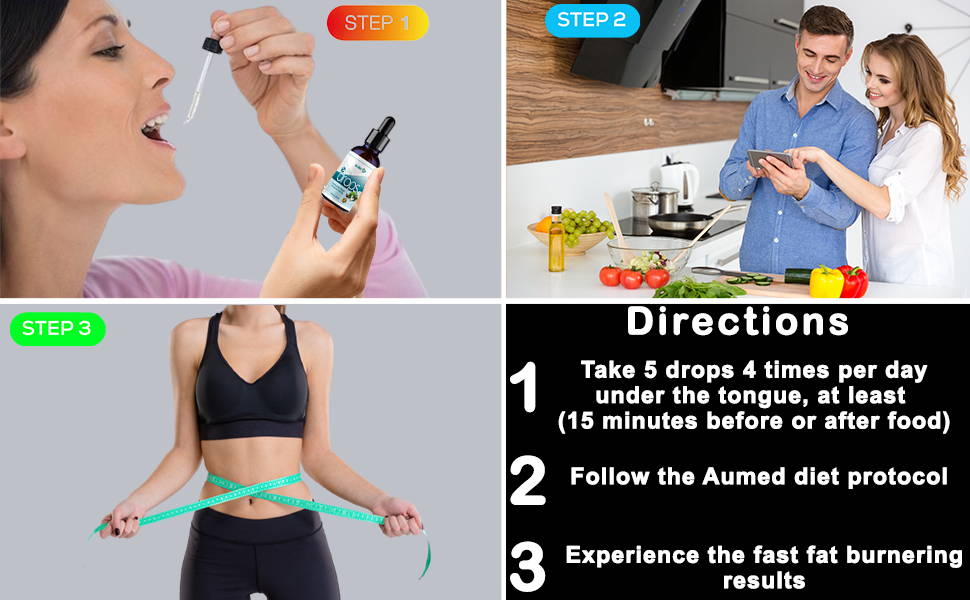 LOVE, LOVE, LOVE this!
I've been using this product and purchasing it for years directly from the seller. I was so glad to find it here on Amazon because I could no longer find the seller's site online.
When I began taking this product in around 2013 I weighed 230 lbs. but I lost to 145 then through (the help of the Lord) using this product, consistent exercise, and watching my intake of flour, starches and sugars. I also take several other blood sugar stabilizing supplements since both of my grandmothers had diabetes.
I tried using another product and gained back up to 172 lbs. The energy and initiative to exercise were almost gone. I had to really push myself. When I found this here on Amazon again, I purchased it and it was delivered October 17th. As of today, October 25th, I've lost back down to 165 lbs. and will continue working to lose the rest of the extra weight. I am very thankful for this product and feel it is a God send for me. (It may be that I am losing weight so fast because I have so much energy and feel well enough to walk between 7.5 and 3 miles every other day.)
The other thing is, this product seems to give me a youthful, healthy glow. While I 'm taking it, many people have commented on my appearance saying I look like I am a sister to my daughters.
While I was taking the other product, even I noticed a, well let's say, a 'not so positive' change. I compared how I felt before, and realized I had been used to feeling and looking *excellent* but wasn't anymore. Now since I am taking this again, I realize how awesome it is to be able to use this product.
I got this for the weight loss benefit
And the belly fat burner. I am trying to lose weight and this should help keep my cravings under control so that I don't overeat. I like that it is non alcohol too.
Belly fat burner liquid drops--maybe--but hopefully appetite reducer
I got this alcohol-free formula which promotes a fat burner drop. YES! I have a belly I'd love to get rid of! At my age, not a lot of lean muscle mass left. Not sure of the ingredients, as the active ingredients are listed as a "proprietary" blend of...whatever those things are. It is slightly sweetened with stevia. The ingredients suggest a number of drops per day, holding under the tongue and for maximum benefit, timed correctly. I've not taken as suggested (5 drops 4 x/day) and I should increase what I'm currently doing, I'm sure. I don't have a scale, and my appetite usually hits hard around 3 pm, so have been trying to time it then. I can't attest to all the benefits listed in the description, but I can say, maybe my imagination (or not) but I think there is a difference in my afternoon appetite. No difference in the belly fat--so far--but only been using one week.
Seems like it could definatly work hoping
So far, so good. Haven't had a chance to try it more than a couple of times. I can say that the taste isn't too bad. Not super thick, so the taste is easy to rinse away even if you hate it.
You place several drops under your younger and hold it there. My guess is, so it absorbs into the bloodstream through the veins under the tongue. So it should definitely be absorbed, it's just a question of how well the ingredients actually work for weight loss.
So far, I'm hopeful.
Once I can say how well it works if it works, I would maybe recommend it to a few people I know.
5 Stars based on results not price!
What these drops do...suppress appetite, increase blood oxygen, vitamin B to boost metabolism, and all the L's for optimal body repair and replenish. With exercise and eating better food choices, i lost 13 lbs in a month without too much extra effort.
Recently Viewed Products
Exclusive built-in app section that stores the history of product views (incl. quick view)